Feel free to send us videos of aggressions you filmed or found, with a word about the circumstances, dates, and any detail you think is relevant, we'll publish it here!
---
10.20.2021 – Sheriff's Deputy Julio Alvarado assaulting a black woman in Jefferson Parish (LA)
Footage of the brutal treatment inflicted on officer Julio Alvardo on Shantel Arnold, a 34 year-old black woman on September 20, 2021. She was just walking home after she had been… assaulted by youngsters from the neighborhood…
Then Alvarado, for no apparent reason, took his turn, as shown on the last part of this footage. Shantel lost many braids in the attack.
[Sign the petition to fire Police officer Julio Alvarado for Assaulting Shantel Arnold]
[Source : The Swanvillan on YouTube]
---
05.20.2021 – Associated Press releases video of Louisiana state troopers electrocuting, beating and dragging Ronald Greene
AP released portions of the 46-minute video showing one officer putting Ronald Greene, a Black man who was killed during a 2019 traffic stop in Monroe, Louisiana, in a chokehold and punching him in the face, while another can be heard calling him a "stupid Motherfucker." After the beating, AP reports the officers left Ronald unattended, moaning and face down for more than nine minutes as officers refused to render aid, instead washing blood off their hands and faces. Ronald arrived dead at an area hospital with two Taser prongs in his back. Police initially told Greene's family he died of a car crash. The family has filed a federal wrongful death lawsuit.
[Sources: AP News on YouTube, Democracy Now!]
---
04.16.2021 – Bodycam Footage of Adam Toledo's shooting released
Chicago police have released graphic footage of an officer shooting dead 13-year-old Adam Toledo. Bodycam video shows the policeman shouting "drop it" before shooting Adam once in the chest on 29 March, 2021. The boy does not appear to be holding a weapon in the split second he is shot, but police video shows a handgun near the spot where he falls.
[Source: BBC on YouTube]
---
04.08.2021 – Bodycam Footage of Caron Nazario's aggression released
Caron Nazario was stopped on December 5, 2020 in Windsor (VA). A Black and Latino Army Lieutenant, he was yelled at by two police officers, pepper-sprayed in the mouth, pushed to the ground and threatened with law suit by officers Joe Gutierrez and Daniel Crocker.
The bodycam footage was released nearly four months after the incident, and quicky got millions of views.
[Source: The Guardian]
---
02.19.2021 – Video of
Angelo Quinto

Incident

Angelo Quinto was unreasonably physically restrained and asphyxiated by Antioch police December 23rd 2020. He later died at the hospital.

His family held a press conference on February 18, 2021 :
[Sources: John Burris Law Offices on YouTube, The Quinto-Collins Family on YouTube]
---

12.22.2020 – Body cam video leaves questions unanswered in Columbus police shooting of Andre Hill
Andre Hill was approaching a Columbus police officer with his phone in hand when he was fatally shot. The officers who responded to the complaint were wearing body cameras. However, the city statement said the officers did not turn those cameras on until after the shooting had occurred.
Because of a feature on the cameras called a "look-back," the shooting was captured by the cameras. However, the look-back feature does not capture audio recording, so there is no audio available of what was said between the man and the officers before the shooting. The bodycam video was released Dec. 23 to the public after Hill's family reviewed it. There is no dash camera footage because it was a non-emergency call and the responding officers did not respond with lights and sirens on, which automatically activates the dash camera.
[Sources : The Columbus Dispatch with USA Today]
---
08.12.2020 – Black Mom Swarmed & Beaten by Philly Riot Police with Toddler in Car Demands Officers Be Fired
A Black mother who was attacked by a horde of Philadelphia police officers is speaking out about the harrowing experience. Rickia Young was driving an SUV with her 2-year-old son and teenage nephew on October 27 as the city was engulfed in protest over the police killing of Walter Wallace Jr. earlier that day. Officers descended on the vehicle, broke its windows, assaulted and arrested her and separated her from her child. Young's arrest went viral due to a shocking video of the police swarming her vehicle, and after the National Fraternal Order of Police — the country's largest police union — posted a photo of her 2-year-old on social media, falsely claiming he "was lost during the violent riots in Philadelphia, wandering around barefoot in an area that was experiencing complete lawlessness." More than a month after the police attack, Rickia Young is demanding the officers involved be fired. "The police have not offered an explanation as to why they acted the way they did that night. They responded instead with a police investigation into Rickia," says Kevin Mincey, Rickia Young's attorney.
[Source: Democracy Now!]
---
09.24.2020 – Shocking Video Shows Seattle Cop Rolling Bike Over Fallen Breonna Taylor Protester's Head and Neck
The Seattle Police Department is investigating after a video showed one of its cops rolling a bike over the head and neck of a fallen protester at Wednesday night's Breonna Taylor demonstrations.
However, the shocking video, which appears to show an SPD officer rolling his bicycle over the head of an already-injured man, has been widely condemned on social media. The anger led the department to comment, "The Seattle Police Department is aware of a video circulating on the internet that apparently shows an SPD bike officer's bike rolling over the head of an individual laying in the street. This matter will be referred to the Office of Police Accountability for further investigation."
[Sources : The Daily Beast, ABC News on Twitter]
---

09.07.2020 – Words from brother who can't be silent
In the video, which was recorded by Shermaine Laster, an activist from New York who distributed it on social media, Jacob Blake describes his injuries, which he says left him with staples in his back and stomach.
---
Family of Daniel Prude have released video and records detailing man's death by police in March 2020. The video show Daniel Prude, who had taken off his clothes, complying when police ask him to get on the ground and put his hands behind his back. They are seen putting a white "spit hood" over his head to protect themselves from the detainee's saliva, following coronavirus pandemic precautions.When he demands they remove the hood, the officers force his head into the pavement, as another officer places a knee on his back. "Trying to kill me!" Daniel Prude says, before he turns silent.
[Source : The Independent]
---
DC Police release redacted bodycam footage of the killing of Deon Tray, a 18-year old African American, which shows that Kay had a gun but that he threw it away before officer Alexander Alvarez shot him.
[Source : DC Police on YouTube]
---
Shooting in the back of Jacob Blake, 29, by Police Officers who fired 7 times. One of Blake's neighbors said when he went to the store about 15 minutes before the shooting, Blake was barbecuing with his kids. When the neighbor returned, Blake was trying to break up a fight. Seven or eight police officers arrived. They wanted to talk with Blake, but he wasn't interested and started putting his kids in the car to leave.
[Source : Twitter]
---
A by-stander films police tasing and shooting to death Trayford Pellerin, a 31-year old African-American.
[Source : Twitter]
---

The detailed video briefing of the bodycam of Officer Jonathan Castlegrante shooting Kevin Smallman comes nearly six months after the Jan. 27th shooting but during a moment when police departments across the country are under increased scrutiny for their use of force.
Chandler police did not release video for the full length of the encounter and instead interspersed the footage from Castlegrante's body camera with captioned messages and aerial views of the hotel parking lot. Castlegrante was the only officer involved in the shooting, police said.
[Source : LiveLeaks]
---
Newly released police body camera footage shows a police officer assaulting an unhoused man who refused to give up his seat on a subway train during the coronavirus lockdown in May. Manhattan District Attorney Cyrus Vance is charging the victim with felony assault of an officer, punishable by up to seven years in prison.
[Source : Democracy Now!]
---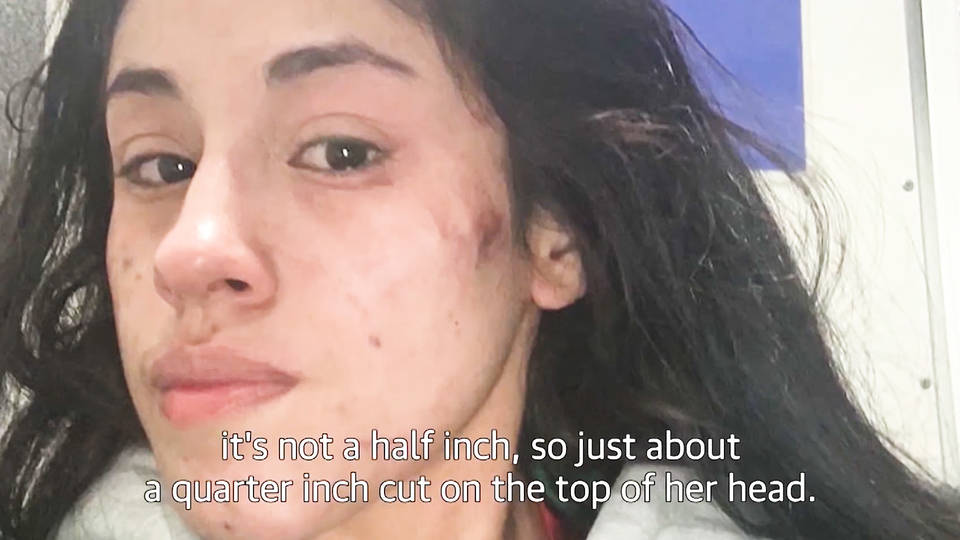 In Phoenix, Arizona, newly released body-camera footage shows a police officer assaulting a 23-year-old unarmed woman after she was pulled over for a minor traffic violation in January. The video shows officer Michael McGillis stopping Mariah Valenzuela without explanation, before he suddenly tackles her and slams her to the ground without warning.
[Source : Democracy Now!]
---

Dashboard camera footage shows police converging quickly, with an officer starting to take a man in a white T-shirt into custody. As other officers approach, Hakim Littleton, in an orange shirt, can be seen bending slightly to seemingly root through a pocket.
The officer with the body camera running is clearly seen raising his gun, more shots sound and Littleton falls to the ground. Video included the sound of nine blasts, though it was not immediately clear whether the audio of a single shot was possibly distorted.
[Source : New York Post]
---
06.13.2020 – Trevor Noah On Police Repression

Police brutality during demonstrations following the death of George Floyd : Trevor Noah looks at the weapons and equipment, the violence, etc..
[Source : Trevor Noah, The Daily Show]
---
Authorities in Austin, Texas, are facing new questions over the death of an African American man named Javier Ambler in March of last year. He died after being pulled over by Williamson County deputies after a chase that began when he failed to dim the headlights of his SUV while passing a deputy's car. Newly released police body cam footage shows Ambler was repeatedly tased while he told the officers "I have congestive heart failure" and "I can't breathe."
Details about Amber's death are only coming to light now after the Austin American-Statesman successfully forced the release of the police body cam footage and internal reports about the killing. Until last week, Ambler's family only knew he died in police custody. His death was also filmed by A&E's reality show "Live PD", but the footage has never been publicly viewed. Ambler was a former postal worker and father of two. The Travis County district attorney has announced the case will go to a grand jury this summer.
[Source : Democracy Now!]
---
06.08.2020 – Police Violence Against Protesters Results in More Deaths and Severe Injuries
In Columbus, Ohio, an investigation has been launched into the death of 22-year-old protester Sarah Grossman, who died soon after getting pepper-sprayed at a protest. This comes as reports of police violence against protesters continue to pile up.
In Indiana, 21-year-old Balin Brake lost his right eye after a police officer fired a tear gas canister directly into his face at protest in Fort Wayne.
In Texas, 26-year-old Brandon Saenz lost his left eye and seven teeth, and fractured his skull, after a Dallas police officer shot him in the face at close range with an unknown projectile.
In La Mesa, California, 59-year-old grandmother Leslie Furcron was filming a Facebook Live video of a protest when she was shot between the eyes by a bean bag round fired by police.
[Source : Democracy Now!]
---
06.07.2020 – Last Week Tonight spécial Police
John Oliver focuses on the police, its methods, its history. Enlighting and funny…
[Source : Last Week Tonight]
---
Brad Levi Ayala was shot in the head at the Austin protest on May 30, 2020. He is only 16 and his family is struggling to pay the medical bills and recover from this tragedy. He was standing quietly on a hill when a rubber bullet his him in the head. He is recovering and stable but the recovery will be a long process.
[Source : Tribune of the People]
---
Cops singing and laughing after shooting Brandon Saenz.
[Source : Fermi's Teapot]
---
In Minneapolis, police fired tear gas and rubber-coated bullets at thousands of demonstrators who gathered Tuesday to protest the killing of George Floyd, an African American man who was killed by a white police officer on Monday. A video circulated widely on social media shows Floyd gasping for air and telling the officers "I cannot breathe" while officer Derek Chauvin pins him to the pavement with a knee to his neck. A warning: The video is extremely graphic.
[Source : Democracy Now!]
---
New Jersey's top law enforcement official has finished an initial investigation into the fatal shooting by a state trooper of a man after a traffic stop and released video and 911 audio from the incident on Monday.
Maurice Gordon, 28, of Poughkeepsie, New York, died May 23 after being shot by State Police Sergeant Randall Wetzel along the Garden State Parkway in Bass River.
Attorney General Gurbir Grewal's Office laid out a timeline of what investigators say happened.
[Source : 6ABC]
---
Cellphone footage has emerged of a Los Angeles Police Department officer repeatedly punching a man being arrested in the neighborhood of Boyle Heights in late April. The video shows the man with his back toward the officers, standing near a fence with his hands behind his back, when one of the officers begins punching him behind the head and body, hitting him over a dozen times while yelling profanities. The man then tries to take a few steps away from the officer as the officer walks toward him again, punching him several more times. The man doesn't fight back. The police officer has since been ordered to stay home pending an internal investigation. He has been identified as a 20-year LAPD veteran named Frank Hernandez. The Los Angeles Times reports Hernandez has been involved in three on-duty shootings during his career. In 2010, Hernandez shot dead a 37-year-old Guatemalan immigrant named Manuel Jamines, sparking protests.
[Source : Democracy Now!]
---
In the U.S., outrage is mounting in Indianapolis following a string of killings by police that took place last week in a span of less than 24 hours. On Wednesday night, 21-year-old Dreasjon "Sean" Reed, a Black man, was fatally shot by an officer following a car chase that was live-streamed on Facebook. The following day, 19-year-old African American McHale Rose was shot and killed after what police described as a planned ambush against the officers. And in a third, unrelated incident that same day, a police officer killed 23-year-old Ashlynn Lisby, who was pregnant, by hitting her with his car as he drove to work. At a protest Saturday over Sean Reed's killing, police attempted to disperse crowds by deploying pepper balls and arrested at least one person.
[Source : Democracy Now!]
---
Video shot by a passer-by showing officer Frank Hernandez, murderer of Richard Castillo, savagely beating a homeless man.
[Source : Foos gone wild on Twitter]
---
In New York City, cellphone video has gone viral showing police officers aggressively pinning a Black man to the ground as they arrested him, then violently attacking a passerby — also Black — dragging him on the street, punching him and kneeling on his neck, during what was supposed to be a social distancing enforcement action. The witness who took the video said police falsely accused the first man and a woman of violating social distancing rules, before going after the passerby. At least some of the officers involved in the attack were not wearing protective face masks, as required in New York when social distancing is not possible.
Over 1,000 New York police officers were dispatched over the weekend to enforce social distancing rules. Photos emerged on social media over the weekend of crowded parks and other public spaces as New Yorkers left their homes to take advantage of the warmer weather.
[Source : Democracy Now!]
---
Video has gone viral of a white police officer in Northern California repeatedly punching a 14-year-old African American boy who was laying on the ground. The Rancho Cordova officer stopped the boy after he allegedly purchased a cigar from an adult. A video of the incident has been viewed over 2 million times online.
[Source : Democracy Now!]
---

04.24.2020 – Bodycam video shows Salt Lake City police officer Nickolas Pearce ordering his K9 dog to bite a Black man's leg repeatedly
Jeffery Ryans, a 36-year od Black man, was attacked when a police officer commanded his K9 to hit him. Body camera video from the incident shows Jeffery Ryans lying on the ground protesting and exclaiming in pain as a dog bites and tugs at his left leg. One officer is seen handcuffing him while officer Nickolas Pearce repeatedly says "Good boy" to the dog…
---
Greenville County Sheriff's Office released Monday what it called "relevant video footage and photographs" in the shooting of 62-year-old Dick Tench, shot in his home on June 13, 2019, by Deputy Kevin Azzara who responded to an alarm call.
The video was released as promised by the Greenville County Sheriff's Office and qualified as "relevant video footage and photographs" in the shooting. But it does not show Tench "open the door and point a gun directly at the deputy," as officials originally claimed.
"That's the most disturbing aspect, aside from the fact he was shot four times, was that the account of what happened was absolutely untrue," Tench's attorney, Beattie Ashmore, said in an interview Tuesday. "The fact they allege he opened his own door and pointed a gun at a Greenville sheriff's deputy is ludicrous."
The video, which was edited by the sheriff's office and lacks some audio, includes a narration from Capt. Tim Brown from the office of professional standards.
[Sources : Wahsington Post, YouTube, Fox Carolina]
---
12.15.2017 – Bodycam footage released

Bodycam video footage released from the police officer who murdered Daniel Shaver. He was acquitted (01.18.2016).
---
New video of the murder of Alton Sterling (05.03.2017)
---
Newly released video has revealed the dying moments of an African-American active-duty soldier who checked himself into the El Paso, Texas, county jail for a two-day sentence for driving under the influence, and died while in custody in 2012. Authorities claimed Sgt. James Brown died due to a pre-existing medical condition, but shocking new video from inside the jail raises new questions about what happened. The video shows guards swarming on top of him as he repeatedly says he can't breathe and appears not to resist. By the end of the video, he is shown naked, not blinking or responding, his breathing shallow. Attorneys say an ambulance was never called. Brown was eventually brought to a hospital, where he was pronounced dead. His family had long suspected foul play in his death but received little information from authorities. They've now filed a lawsuit against El Paso County saying his constitutional rights were violated.
Sgt. James Brown: "Now that's blocking too much air. That's over my nose and my mouth. Could you unhook my arm out of this?"
Prison guard: "You need to calm down first."
Sgt. James Brown: "Can I lay on the floor?"
Prison guard: "No, sir."
Sgt. James Brown: "Well, you're going to have to do one or the other to help my breathing. Please, that's all I ask."
Prison guard: "You got to calm down a little bit first."
Sgt. James Brown: "I will. I just need the mask—please."
Prison guard: "Relax."
Sgt. James Brown: "Please. Please. I can't breathe. I can't relax. You've got to take this mask off, dude, please."
Prison guard: "Can't take it off, sir. I'm sorry."
[Sources : Democracy Now!]
---

11.26.2014 – Surveillance video footage released by the police after the killing of Tamir Rice
Video footage of the incident that resulted in the death of Tamir Rice was released by the police four days after the shooting, on 26 November.
[Sources : BuzzFeed]
---
On August 5, 2014, John Crawford III, a twenty-two year old African American picked up an un-packaged BB/pellet air rifle inside a Beavercreek, Ohio Walmart's sporting goods section, and continued shopping in the store. Another customer, Ronald Ritchie, called 911, stating that Crawford was pointing the gun at people and at children walking by and messing with the gun. Ritchie has since stated, "At no point did he shoulder the rifle and point it at somebody," while maintaining that Crawford was holding the gun and "waving it around." Two officers of the Beavercreek Police arrived at the Walmart shortly after their dispatcher informed them of a "subject with a gun" in the pet supplies area of the store. Crawford was then shot and later pronounced dead at Dayton's Miami Valley Hospital. A second person, Angela Williams, died after suffering a heart attack while fleeing the scene from the shooting.
---
Eric Garner was assassinated by chokehold during a police operation. Suspected of selling "loosies" (single cigarettes without a tax stamp) in violation of New York state law, the 43-year old Afro-American is violently put to the ground by  4 police officers, one in his back with his arm around the neck of the victim, who will die later from a heart failure during his transportation to the hospital. All along the scene, he can be heard saying "I can't breathe! »
---
Bodycam footage from the police officers who murdered Kenneth Chamberlain Sr.
[Sources : Democracy Now!]
---
Twenty-two year old Oscar Grant had been celebrating New Year's Eve with his friends at the Embarcadero in San Francisco, and was returning to East Bay in the lead car of a Bay Area Rapid Transit (BART) train bound for Fruitvale with a group of eight friends. BART offered extended service and a special "Flash Pass" for the holiday. At approximately 2:00 a.m. PST on January 1, 2009, BART police responded to reports of a physical altercation involving up to 20 people on an incoming train from the West Oakland BART Station and the participants were "hammered and stoned."
BART Officers Tony Pirone and Marysol Domenici were the first officers to arrive at the scene. The officers removed Grant and several other men suspected of fighting from the train and detained them on the platform. Pirone handcuffed Grant's friend, angering other riders. Officer Pirone directed Officer Johannes Mehserle to arrest two of the individuals who had not been handcuffed. One of the individuals to be arrested was Oscar Grant and Officer Pirone's direction to Mehserle was overhead by Grant. Grant, upon hearing that he was under arrest, attempted to stand up, but was forced to the ground face first. Both Officer Mehserle and Officer Pirone attempted to restrain Grant and seek his compliance by ordering him to put his hands behind his back to be handcuffed but Mehserle was unable to remove Grant's arm from under his body. Mehserle then drew his pistol and shot Grant once in the back, later claiming he intended to use a taser that was recently issued. Grant was unarmed and was pronounced dead the next morning at Highland Hospital in Oakland. The events were captured on multiple digital and cell phone cameras, and this footage was disseminated to media outlets and to various websites, where it was watched millions of times.
---